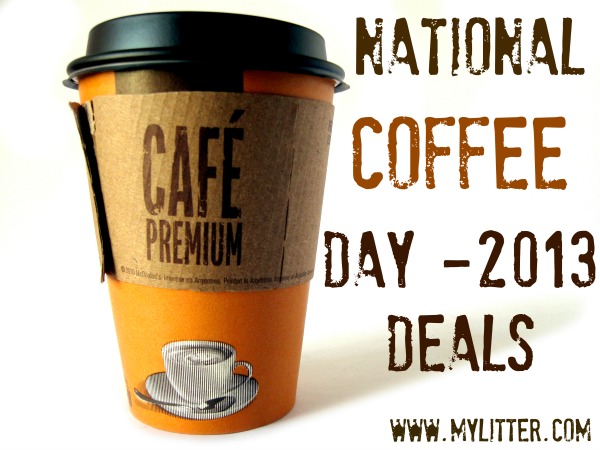 Here are some National Coffee Day Freebies and Deals for you to enjoy TODAY! Sunday September 29th is National Coffee Day in 2013 and so it is your chance to score some freebies! Make sure to share with your friends and let them in on the fun!
If you know of anymore deals, please let me know!
Krispy Kreme - will give guests a free 12-ounce cup of hot coffee.
Dunkin' Donuts - is offering a free small hot or iced Dunkin' Donuts coffee.
Starbucks - Get a free sample of Starbucks' newest medium-blend coffee, Ethiopia.
Peet's Coffee & Tea - From 10am to 2pm, get a free 12-oz maple latte with any baked item order or purchase of Simply Oatmeal.
Wawa - Get a free 16-oz coffee from Wawa when you fill out a form on their Facebook page.
USA Coffee Company - Get a free 8-oz bag of Union Roast coffee with any coffee order at USA Coffee Company's website. Use coupon code COFFEE DAY to score this Hawaiian-grown, USA-made coffee.
Tim Hortons - Tell the cashier "Happy National Coffee Day" when you buy one coffee, and get another coffee free (any size applies, according to their Facebook page).
Caribou Coffee - Caribou Coffee's National Coffee Day offer includes a free small coffee with printable or mobile coupon.
Kangaroo Express - Get a 12-oz coffee from Kangaroo Express convenience stores for just a penny between 8am and 12pm. Kangaroo Express has over 1,500 locations in the southeastern U.S.
The Coffee Bean & Tea Leaf - Be one of the first 2,500 customers at Anaheim Angels Stadium between 8 a.m. and 2 p.m. on Sept. 29 to trade your old, electric coffeemaker for a free Americano machine ($149 value) during The Coffee Bean & Tea Leaf's "Trade Up Your Cup" Event.
Einstein Bros. Bagels - Beginning Sept. 27, it's BOGO at Einstein Bros. Bagels. Buy one beverage — hot or iced speciality latte or drip coffee — get one free through Sept. 29.