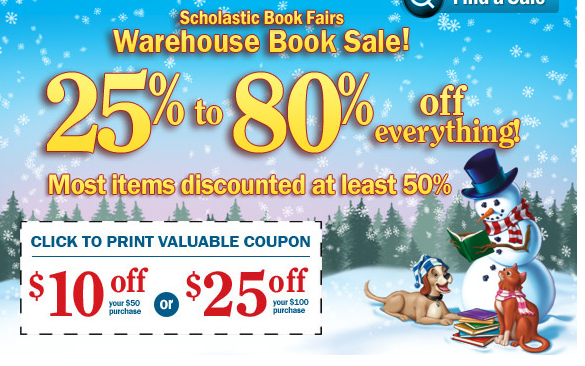 ** This is a follow up… I was at my warehouse sale today and forgot to mention that you can volunteer to work there. They "pay" you $20 an hour in books. You do not get the book at 50% off but for the value on the back of the book, so regular price.
A few years ago I was really stressed how I was going to get my kids Christmas presents. I volunteered and worked my sale for 1 day and traded babysitting with a friend. I had $120 in free books. They have stocking stuffers, cookbooks, kids books and toys to choose from. I was able to get what I needed to make it a great Christmas morning. The sale ends on December 17th in Houston. But they are taking people to work on the 19th, 20th and possibly the 21st. If you are interested you can call 1-877-714-8292 and set up a time to come in and help!
I have been going to the Scholastic warehouse sales for years, since I home schooled our oldest son. They have them about 2x a year, one in December and one in the spring. Imagine a HUGE warehouse FULL of books, all the ones that you see in your kids Scholastic order books from school, but EVERYTHING is 50% off or more!
I go TOTALLY nuts in there! I need supervision!
They are having one coming up in Houston, but they have them all over the country. A while ago you had to be a teacher, home school parent, school volunteer to shop there, although I have never had them ask. But I think we all fit some form of those no matter what! Plus, if you sign up for the fast cart pass you will get a $25 off $100 purchase coupon.
This is something that I would not miss. Find a sitter, take the time to drive in and grab some really good books at really discounted prices! Go HERE to find one in your area.