Looking for a new slow cooker recipe to feed the troops?  This Fiesta Chicken Crockpot Recipe is a great one to add to the rotation!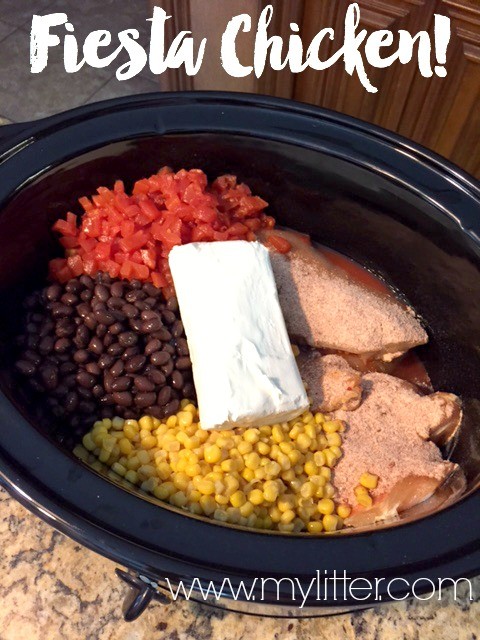 You might have seen this recipe around the internet this past week… my Fiesta Chicken crockpot recipe. Those of you who have been reading my site for a while might have recognized my kitchen anyway…
I make this for dinner often. It is a simple, easy and DELICIOUS chicken crock pot recipe that my kids love. I love it as well for that matter…
Anyway, I was in a hurry and made it for dinner last week and was out of a few ingredients and made some substitutions. It looked really pretty when I had it all together and so I snapped a picture and figured I would let you guys know what I was having for dinner.
Well, 26 MILLION people saw my picture last week with over 550,000 shares of my picture & recipe!! (Then of course you have countless people who stole my picture and reposted exactly my word for word comments and directions as their own, and those were shared a crazy number of times…) But in the end, it is a DANG good chicken recipe!
I was out of the standard Ranch packet you are supposed to dump on the top, but I had this packet of Fiesta Ranch and so I used that… OMGosh! It made it soooooo good!!
This recipe is sooooo easy! You can use raw, frozen or unfrozen chicken. You dump it all in the crockpot, sprinkle the dip packet over it all, and then cook it on high for 4 hours or 6 on low. Then shred the chicken with forks and mix it all up. It looks a little sketchy at this point, but don't worry. Then we make rice, and serve this over the rice using tortillas to scoop it up OR you can just make chicken tacos. So many choices!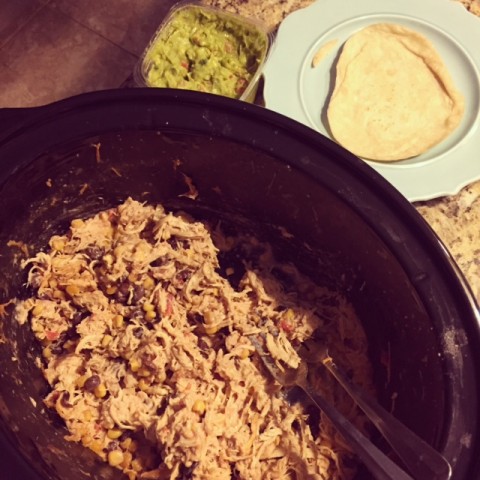 If it is a little soupy that is ok. Leave the lid off for a little bit and the liquid will disappear. I think it is good with a little sauce though personally.
Instead of the usual Rotel I used petite diced tomatoes drained, as my little kids don't like the spice from Rotel.
The cream cheese doesn't need to cook all day with the chicken. In fact, it might curdle if you boil it. I typically toss it in about 40 minutes before we eat, it just needs to get soft enough for you to stir in.
**If you don't feel like heading into the store for all your shopping list for this, you might try the Walmart Grocery Pickup if it's available in your area (there's coupon codes all the time)
Fiesta Chicken Crockpot Recipe
4 chicken breast (frozen or raw)
1 packet Fiesta Ranch dip (by the salad dressing)
1 can black beans (drained and rinsed)
1 can Rotel
1 can corn not drained
1 block cream cheese
Cook on high in the slow cooker for 4 hours or 6 on low. Shred with forks and eat over rice  with tortillas.
If using the Instant Pot, use raw chicken.  Cover the chicken with the ingredients listed.  Press the poultry button then add 5 minutes to cook the chicken for a total of 20 minutes (some prefer 25 minutes).
The Instant Pot will release the pressure.  Your chicken will be ready to shred and serve!
This Hamilton Beach Stay or Go is currently my favorite Crock Pot. I needed to get one with the latch over the top after one too many spills while taking dinner to a party, friends, or church. Plus they are often 50% off or more with free shipping.
If you are having a hard time finding the Fiesta Ranch in your grocery store, they are in all of mine by the salad dressing usually on the top shelf, you can order some Fiesta Ranch HERE. Learn how to cook chicken tender all the time and buy it from the ads.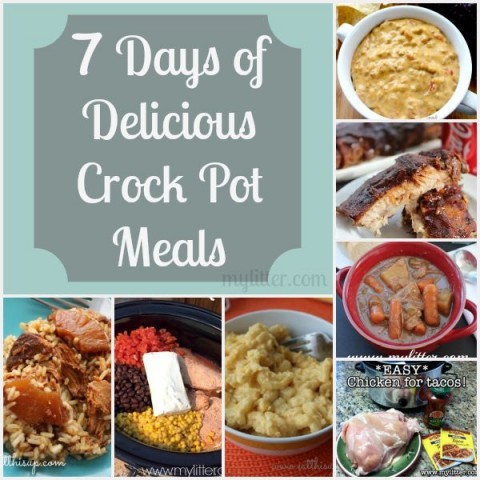 If you like Crock Pot recipes as much as I do, I put together a few of my FAVORITE easy Crock Pot recipes in one place. Head on over HERE to check them out!
More Recipes You'll Love: