O.K. so I am pretty excited for CVS this week, I am not even sure why! The ad just looks fun and I have some of my coupons cut out so I am feeling a little more prepared!
There is a brand new CVS coupon policy that you can print and take with you and read over HERE. If you are new to CVS, go HERE and read my CVS 101. Thanks Saving Well Spending Less!
Don't forget CVS Advisory panel is open and taking new people. This is aprogram that if you qualify for certain surveys, after you take them CVS gives you ECB's. I have done this for a while and gotten anywhere from $2 to $20 in ECB's.Quick sign up and start getting printable ECB's.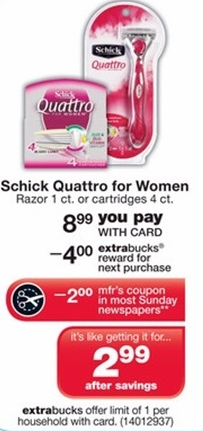 Transaction #1
Schick Quattro for Women Razor or 4 ct Cartridges $8.99
Use $5.00/1 Schick Quattro for Women Razor or Refill printable ( gone now I believe)
Use $3 ECB from last week
Total: $.99
Get Back: $4 ECB
Transaction #2
Buy  Re-Nu Sensitive Contact Solution, 12 oz, $8.99
Use $2 off Bausch + Lomb Renu Fresh or sensitive solution PRINTABLE
Use $4 ECB from Previous purchase
Total: $2.99
Get Back: $7 ECB
Transaction #3
Buy Thermacare Back and Hip Wrap $3.79
Buy Excedrin 8 ct $.99¢
Buy 3 Trident Gum packs $1
Buy Crest Complete Toothpaste $3.89
Use $2/3 Trident products 7/24 SS
Use $2 off Crest Complete toothpaste 9/11 SS
Use $7 ECB from previous purchase
Total: 67¢
Get Back: $6.77 in ECB's!
::WEEKLY DEALS::