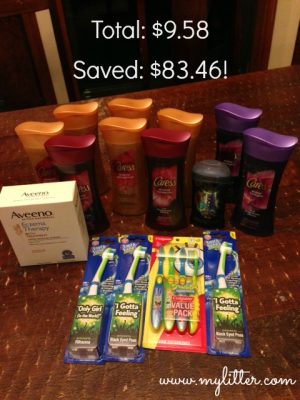 I ran into CVS tonight to grab a few things because of all the reports of items on sale and I was not sad that I did! I saved a ton of money and was really glad that I had coupons on hand!
Bought Caress $1.24
$1.25/1 Caress Bars or Body Wash, exp. 2/23/14 (RP 01/26/14 R)
Total: FREE
Arm & Hammer Music Toothbrushes $2.49 (was $9.99)
Colgate 4 Pack $2.62 
Aveeno Eczema Bath Pack $1.09
Used $1/1 Aveeno Product, exp. 3/8/14 (SS 02/09/14)
Total: $.09
Axe Deodorant $1.37
Use $2/1 Axe Bodyspray, Antiperspirant and Deodorant or Deodorant, exp. 2/23/14 (RP 01/26/14)
Total: FREE
Total: $9.58
Saved: $83.46!