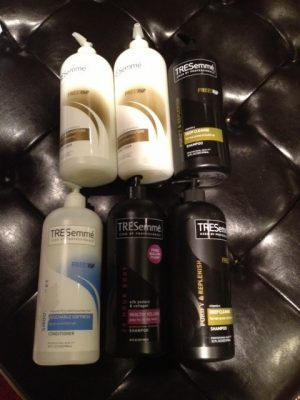 Ok so there is a deal right now at CVS that you can really score big, but you wont be able to do it after tonight I don't think.
CVS has the Tresemme on sale 2/$7 and there were coupons in today's paper for B1G1 free in the Red Plum insert. When CVS is ringing them up, the coupon is taking off $6, making your bottles only $.50 each!
ONe of my CVS stores had a note on the register that they were not going to take the $6 off even though the coupon came up that way, they were taking off $4.75 which is still a killer deal!
Paul was able to grab the 6 bottles above for just at $7, which is an AWESOME price!