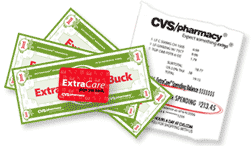 CVS is really my favorite… shhhh don't tell Walgreens! They just make it so easy for you to love them! If you are new and don't know, you can print your ECB's at home.
This is what to do:
Head over here —> and log in or sign up for an account
If you're signing up for an account you'll need your CVS number, it is on the back of your card.
Then go up to "My Account" (upper right)
Then click on "Go to my ExtraCare Account"
Then go to the "ExtraCare Rewards and Coupons"
I find this really helpful at the end of the quarterly spending period. It makes it easy for me to plan my trips knowing how much I am getting back! Thanks Chi Town Cheapskates for the reminder.