Just in case you needed yet another reason to come to our Frugal Living/Coupon Conference next weekend, Michael Angelo's has given us AMAZING coupons for all of you!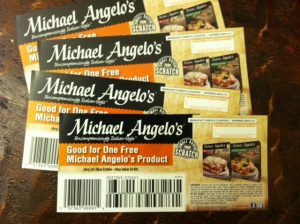 Michael Angelo's is giving all of you each a up to $10 off coupon for Lasagna ( or whatever you want to buy). They want to buy dinner for your family!  Use it to pick dinner up on the way home from the conference that day
Did you know that the folks from Michael Angelo's are from Texas? Yep, they sure are! PLUS, they are currently offering a chance to win a trip to Italy. This is an 8 day trip for two. You will stay in a private villa with the Michael Angelo Family, tour the region, and have an exclusive event at Castello Banfi!
If you have not tried the Michael Angelo's products at your store, you are missing out. I had a chance to meet Michael and his family at a conference and they are the real deal. They are really that family that said, "Hey, we make something great, lets keep it that way and share it with others."
Our lunch speaker, is a friend and AMAZING woman who I am sure you have heard of, Erin Chase of $5 Dinners. Erin will be speaking about meal planning for the Holidays and actually take our local ad for the week and SHOW YOU WHAT TO BUY! Erin also will have a limited supply of her new cook book available for you to purchase at a seriously discounted price (only $10!). This would make a great Christmas present and she will be autographing them as well.
Tiffany Ivanovsky – Building your stockpile and having fun couponing
Paul Ivanovsky – How to have extra Christmas cash and get your family involved in saving money!
Bobbie Byrd – Frugal holiday crafts on a budget ( you will make a craft)
Erin Chase – Meal planning with a purpose
April Ockerman – Making homemade candy and treats ( you get to make some)
Becky Powel – Freezer cooking and making meals ahead of time ( you will make a meal to take home)
Lisa Stauber - The Food Stamp challenge, how Lisa feeds her family of 11 on less than the national Food Stamp allotment, and making homemade cleaning products ( you will take home a homemade cleaning product)
You can get a ticket for the MyLitter Frugal/Coupon Conference below:
This post may contain affiliate links.