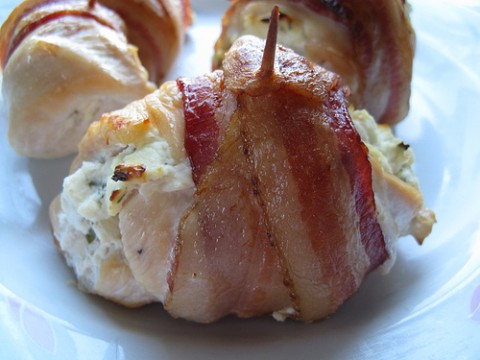 Photo Credit
If you are like me, you have a LOT of bacon and chicken right now 🙂 My friend Nicole E. sent over a recipe that she made over the weekend using both the chicken and bacon!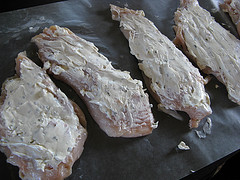 From Nicole:
This recipe was super easy. This recipe is more on an appetizer scale, but we modified it using regular sized chicken breasts (I would def cut Zycon's breasts in half.) Oh, we are a family of 5 and only needed one box cream cheese for 5 rolls. Use as much bacon as you want!  I pounded out the Chicken flatter so it rolled up better.  We used regular cream cheese and chopped up some chives. I thought it needed some fresh garlic mixed in, that would've been good. Salt and Pep of course.  We also chopped up some Jalapenos and stuck those in there (we took seeds out, hardly any spice at all.)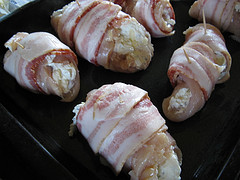 Bacon Wrapped Chicken Recipe
From Blogchef
Ingredients:
12 boneless skinless chicken breasts halves
2 (8 oz) cartons chive and onion cream cheese
12 slices of bacon
salt (to taste)
2 tablespoons butter
Cooking Instructions:
Step 1: Preheat the oven to 400 degrees. Between 2 sheets of wax paper with a mallet flatten chicken breasts to ½" thickness.
Step 2: Spread 3 tablespoons of cream cheese over each chicken breast. Then Dot with butter and season with salt. Wrap with bacon and stick a toothpick through the rolled chicken breast to hold it together. Roll up and stick a toothpick through to hold it together.
Step 3: Bake uncovered for 35-40 minutes (or until juices run clear).
Step 4: Turn on the broiler and broil six inches from the heat for 5 minutes or until the bacon is crispy.