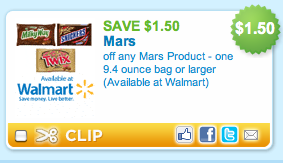 * This is a "sticky post" and so it is staying at the top for a little time or until the coupon is gone! So scroll past this post to see new ones! 
** This coupon does not expire until the end on November!! That means you can use it on all the clearance candy after the 31st and probably get some free!
Use zip code 90210 to get a high value $1.50/1 Mars coupon. This is high value because all the coupons I have are $1.50/3. PRINT THIS ONE QUICK! There are a few different deals you can do with this coupon! Thanks Hip!
CVS:
Mars Chocolate, Wrigley's fun size or Hershey's snack size assorted 9.34-12 oz or Twizzler Twists 22 oz 4/$10 = $3 Ecb (limit 1)
Use 4 $1.50/1 Mars coupons found here
Pay as low as $4
Get back $3 Ecb
Final cost ONLY $0.25 per bag!
Walgreens:
Hershey's, Mars, or Nestle Fun size or Snack Size Candy Bags 10.23-12.5 oz $1.99 with in ad coupon (fantastic price!)
Use the $1.50/1 coupon found here or the $1.50/2 Mars coupon found in the October issue of All You mag.
Final cost as low as $0.49 per bag!
If you want to do everything at one store, you can go to Walmart:
The easiest deal is at Walmart. The Mars bags (which are Snickers, Twix and Milky Way) are priced at $2.48, with the $1.50 coupon that are only $.98!!!