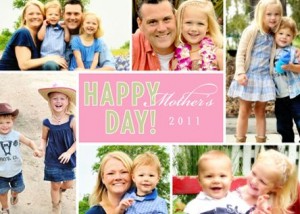 Here is a great deal from Shutterfly. You can order a 5×7 Folded Photo Greeting Card or 5×7 Flat Stationery Card from Shutterfly for just $0.99 shipped to your Mom when you use coupon code MOMCARD at checkout.
For a little more than the price of a stamp you can make a cool personalized card. I like to do these when the kids are napping or in bed for the night!
This is how to do it:
"Enter Special Offer Code" is at the bottom of the page, load the coupon codeMOMCARD into your account.
See your code in your account when you click on "My Special Offers" and it will ask you anytime you checkout if you'd like to apply it to your order. The expiration date is April 28.
Select your Card Design: Go to "Store" in the top menu then "Cards" and you can "Shop by Card Type" and select the "5×7 Folded Greeting Cards" to see what they have.
Just pay shipping (and applicable sales tax) when you order your 5×7 card. When you use your coupon it does not apply towards standard shipping which should cost only $0.99 to have your card sent back to you or to someone else.
Expires Thursday, April 28 so don't forget to design and order your card before this coupon code expires!
Thanks Freebies4mom!