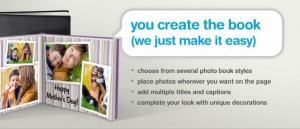 You ONLY have 4 more days on this photo deal at See Here! Buy ANY photo book, get one free of the same style and size. These are the Mothers Day special ones.
If you have a little time when the kids are occupied or in beg 🙂 throw a book together! I don't ever do a photo book unless I have free shipping or I get 2 for the price of 1. So this hits both my "rules"!
This is what to do:
Log-in or sign-up with SeeHere
Make two Photo Books. Both the same size and style.
Use the code mombook to get your second book for FREE and FREE shipping!