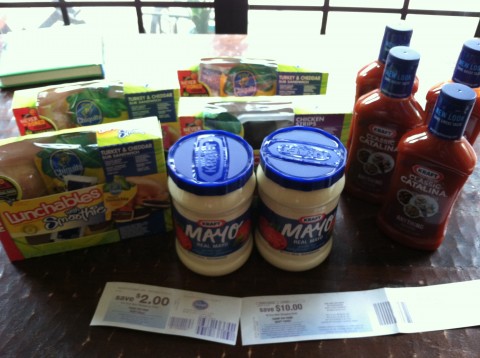 I am reposting this because a lot of people missed it. If you want to see more info on the catalinas go HERE. 
I was so excited to see the Kraft items on mega event along with that Kraft catalina running! To see more info on the Kraft Catalina go HERE. To watch a video of how to shop a mega event go HERE.
::This is what I did!::
Buy 4 Lunchables $2.49
Buy 2 Kraft Mayo $2.49
Buy 4 Kraft Dressing $1.49
Used 4 $1/1 Lunchables Lunch Combinations with Smoothie, exp. 10/14/12 (SS 08/19/12 R)
Used 2 $1/1 Kraft Mayo Printable ( no longer available)
Used 2 $1/2 Kraft Salad Dressing printable
Total: $12.90
Get Back: $10 Kraft Catalina and $2 Kraft Mayo Catalina!
** You do NOT have to do the same deal that I did! I would have bought more Lunchables had I had more coupons! You can do any combo of Kraft products ( as long as you have 10 of them) to get the $10 back. I would suggest picking ones that are on the mega event and you have coupons for, since you have to buy 10 that way anyway. If you have any questions please feel free to ask!