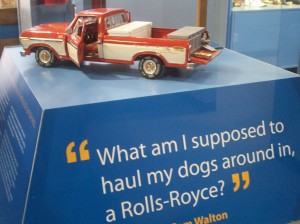 Photo Credit
I saw this picture a few years ago and it has stuck with me. I would love to blow it up, and hang it in my office. It is a picture of the replica of Sam Walton's ( the founder of Walmart) pick up truck, that he drove until the day he died. Sam Walton also wore clothes from his own Walmart, despite dying a billionaire. Love Walmart or hate it, in my opinion, Sam Walton had it right.
There are many traits of highly frugal people that make them successful in life financially, and personally. Warren Buffet still lives in the five-bedroom house in Omaha that he purchased in 1957 for $31,500. Unfortunately many of us, myself included, feel like if we can just make "this amount" every month then I can start saving. When in fact, if I quit spending unnecessarily I would easily reach that magic amount and have something to save.
A bunch of years ago I was pulled over for my registration being expired on my mini van. I kept putting it off because I didn't think I had the $60 to pay it. As I sat on the side of the road, I pulled my wallet out of my newly purchased $100 diaper bag to hand over my drivers license. How STUPID is that?! Now, I had a $200 ticket on top of everything, completely my fault. I was so mad at the stupidity of it all and swore that something that preventable would not happen again. Things would have to change, I would not live like this, paycheck to paycheck and risk unnecessary tickets, utilities cut off, and MAJOR stress.
I knew that there was nothing at that time that would change the amount of money that was coming home, so I had to work with what was there. It was not much. I was already frugal in nature, but as I thought and prayed about it, I knew that there was more I could do with my circumstances at the time than what I was.
Over the next few weeks, I am going to outline a series of steps that you can take to change the financial situation that you are in. I was your guinea pig, I know that it works. Plus, you get to hear about all the mistakes that I have made and hopefully laugh a little at me and learn something from them! Please share your experiences with what has helped and worked for your family, and maybe what didn't work so well.
Step 1: Take Charge
Stop feeling sorry for yourself  – (I was mostly saying this to me) I had to pull my "crap" together, brush off the pity and put my big girl panties on! I wasn't going to win the lottery, no one was going to die and leave me a bunch of money, my husband wasn't going to magically make $350,000 a year. Who cares, I decided I wanted to live happily no matter my income and make whatever we had work to the fullest extent possible.
Take Charge – For the first UGLY time I took a look at what we were spending. I was EMBARRASSED! No wonder we never had any money left at the end of the month. What the heck were we buying all the CRAP for? Done. I had enough, I hate clutter and putting things away, and I wasn't about to fold extra clothes. We just STOPPED spending. Plus, I started looking at my bank statements everyday. I still do, every single day.
No Excuses – Stop making excuses for spending too much money. Yes, you do deserve it, but you don't have to buy it. Remember my $100 diaper bag? I had just had my 4th baby, I TOTALLY deserved that bag. I didn't need it, I should have never bought it, and my baby thought I was awesome without it! The next time you are about to "splurge" or that little voice in your head is saying "don't buy it" WALK AWAY. Actually listen, and don't spend the money. If you really want it, think about it for a few days and come back. Most of time you forget about it and didn't really need it anyway.
Did you have an "ahh ha" moment? What was it? How did you start to change your spending habits?