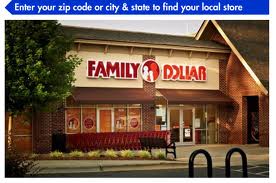 Here are the top Family Dollar matchups for this week with the new coupons that we got on Sunday! To find a Family Dollar near you go HERE. 
Family has their new ad out. It runs June 10-27 and then the deals are gone! Pick up an ad in the front of the store and check out all the deals! You will also need that ad for the in-store coupons. You can stack a store coupon with a manafacturer coupon, getting the most for your money.
Go to  Dollar Store Deals to see the entire list! 
French's Mustard $1.25
$0.30/1 French's Classic Yellow or Spicy Brown Mustard, exp. 7/15/12 (SS 05/13/12)
Final Price $.95
Werther's $1
$1/2 Werther's Original Filled Caramels Bags, exp. 6/30/12 (SS 04/22/12)
Final Price $1 for 2 or $.50 each
Frank's Red Hot Sauce $1
$0.75/1 Franks RedHot Sauce, exp. 7/31/12 (SS 05/13/12)
$0.30/1 Frank's RedHot Sauce printable
Final Price $.25
Any Family Pet Dog Treats $1
Family Dollar Coupon $.50
Final Price $.50
Little Fingr's $1
Family Dollar $.50 off Coupon
Final Price $.50
Suave Body Wash $2
$0.75 off ONE (1) Suave Body Wash
B2G1 Suave Naturals or Kids Body Wash, exp. 6/17/12 (RP 05/20/12)
Final Price $1.25
Secret Deoderant $2
$1/2 Secret Product, exp. 6/30/12 (P&G 05/13/12)
$1/1 Secret Product, exp. 6/30/12 (P&G 06/03/12)
Final Price $1