The Walmart Black Friday store maps for 2012 are up! You can get YOUR stores map and plan your attack, starting now. Not every store will have a map online, they should have a paper copy in the store starting today or tomorrow. Thanks I Heart The Mart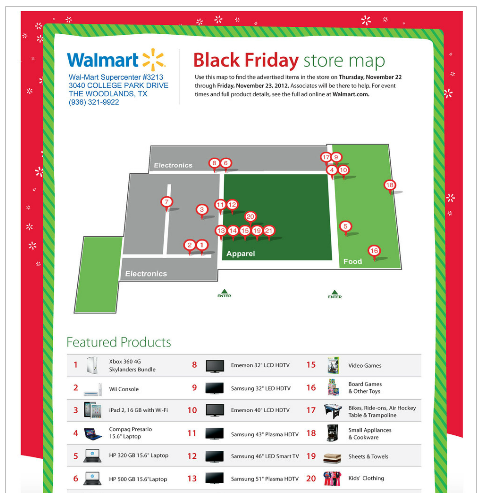 As you can see, items are spread out all over the store and there will be marked lines for the big ticket items.
Walmart is clearly the best spot for Black Friday Shopping this year. One of the big reasons is the 1 Hour In Stock Guarantee on 3 hot items on Thursday November 22 from 10-11 PM.
If you are in line for one of the three guaranteed in stock items, you WILL get it for that price even if they run out! In the event that they don't have enough on hand they will make available a guarantee card, I believe you will have to pay for it at that time but you will get the item at that price.
The limit is 1 per CUSTOMER, per item!
Here are the items in the 1-Hour In Stock Guarantee:
iPad 2 16GB with Wi-Fi: $399 + $75 Gift Card
Emerson 32″  LCD HDTV: $148
LG Blu-ray Player: $38
Walmart Black Friday Strategy Idea: You should be able to get at least 2 of these items. As soon as you get through the first line go get in line for the second one, as long as it is within the hour you will get both! I see this being very doable!