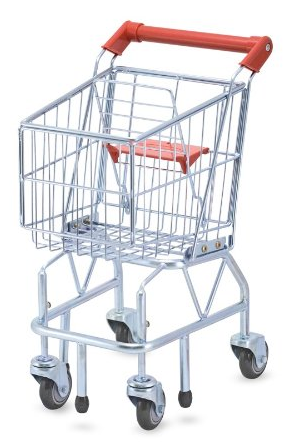 :: The price today is all over the place! ::
This is the lowest price we have seen on the Melissa & Doug shopping cart. They are normally priced at $69.99, it hovers around $50 but today you can get it for $37.46 + free shipping!!! This is metal and looks and feels like a real shopping cart, except that it doesn't tip over.
From the Manufacturer
To market, to market our durable metal shopping cart looks just like those in real stores. Sturdy metal construction includes pivoting front wheels and a folding doll seat. Navigate the aisles in style and safety.
Seriously, I have had ever possible kitchen item known to man for children. You want the ones that last, like this
Melissa & Doug cart
. AND, the Kidkraft wooden kitchen items I posted earlier. I have had mine for 8 years and the cart & blender are still going strong!
This is an awesome deal, don't miss it! Go
HERE
to take a look!
* Prices on Amazon can change at any time.