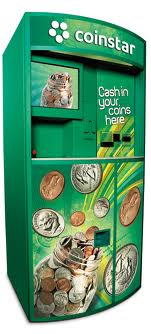 There is a sweet deal going on right now if you need to cash in some change! Just Pour $20 for Amazon.com Gift Cards at Coinstar, get $5 in MP3 Credit. Thanks John!
This is what to do:
Collect least $20 in coins to exchange at your nearest Coinstar kiosk between August 27 and September 23, 2012 (find yours here).
Prior to pouring your coins, select the option to redeem your coins for either an Amazon.com Gift Card or the Amazon MP3-branded Gift Card (both good on millions of items sold by Amazon.com).
Pour in at least $20 in coins and when you "cash out" your unique code for $5 in MP3s will be printed on your receipt.
Go HERE  to redeem your code.
Find the nearest Coinstar kiosk and get started!