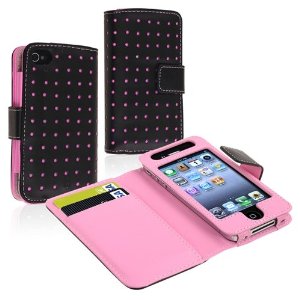 You can pick up a Leather Wallet and Case for you iPhone 4 or 4s today for $3.73 + free shipping! I love this idea since I usually stick my phone in one pocket and my debit card in the other. This is a little "classier"!
Technical Details
Stop worrying about scratching your Apple® iPhone® 4 / 4S by getting this excellent leather accessory today.
This leather case features smooth leather and heavy duty stitching to ensure the long life of your cell phone.
Includes slots to store your credit cards and business cards. Unique design allows easy access to all buttons, controls & ports without having to remove the case.
Custom made for perfect fit. Satisfaction guaranteed. Material: Synthetic Leather. Color: Black / Pink Dot. Size: Perfect fit.
Go HERE to take a look!