WOW! You can stock up on paper plates and bowls today on Amazon! This might be the only thing I have yet to buy on Amazon… I can cross that off the list today 🙂
There is a 200 ct Dixie Ultra paper plate pack you can get for as low as $17.86 with subscribe and save and the $1 off coupon. The regular price is $31! If you are getting this deal, and you don't choose subscribe and save you can add on some of the cheaper packs of Dixie products below with this deal.
Dixie Heavy Duty 48-Ct Plates for just $1.46 Shipped when you clip the $1 off Dixie Products Amazon Coupon.
Or – snag Dixie Heavy Duty 35-Ct Bowls for $2.35 after coupon.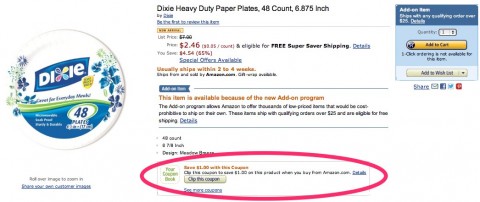 * This is an add on item from Amazon. Which means you have to have $25 in your cart for them to let you add it. This is because it is so cheap it is not worth shipping alone.
Now if you don't want to have to spend the $25 on something else. You can get these plates without a $25 purchase.
::DEAL IDEAS::
Get Dixie Ultra 8-1/2 Inches Plate, 105 Ct (3 Pack of 35 plates ea) –$10.81 
Subscribe & Save to take it down to $9.19
Clip the $1 Off Coupon
(makes it $8.19, or $.07 per plate)
Get Dixie Heavy Duty Ultra Plates 200 Ct (10 packs of 24 plates ea) – $19.75(Reg $31.44)
Subscribe & Save to take it down to $18.75
Clip the $1 Off Coupon on page
= $16.49, or just 7 cents per heavy duty plate!