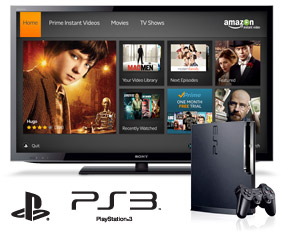 Amazon Instant Video is now playing on the PlayStation 3 system. Register your PlayStation 3 today to start watching over 120,000 movies and TV shows, available to rent or purchase. Prime members can also watch thousands of these videos at no additional cost.
Selection: Find thousands of new release movies and day-after-broadcast TV shows for rent or purchase on your TV
Instant Gratification: Order movies and TV shows right from your couch and watch immediately after purchase. No lines, no returns, incredible selection. Missed your favorite TV show last night? Watch it on Amazon Instant Video the day after it airs
Access: Movies and TV shows that you buy or rent online can be viewed on your PlayStation 3, or any other compatible device
Amazon Prime: Prime members get unlimited access to over 17,000 Prime Instant Videos at no additional cost
Don't Own a PlayStation 3?Browse PlayStation 3 systems
Good news — Prime Instant Video is now available on PlayStation 3. Since launching a year ago, we've more than tripled our library, including titles such as Sons of Anarchy,Downton Abbey, Lost, Glee, 24, Deadliest Catch, SpongeBob SquarePants, Office Space, The Graduate, The Last Emperor,The Thin Red Line, The Last of the Mohicans, and Brokeback Mountain.
Prime members get unlimited instant streaming of these titles and 17,000 more. If you're already a Prime member, just register your PlayStation 3 and start watching now. If not, start your one-month free trial of Amazon Prime today.
We have it all, anytime you want it: this week's newest movie releases, your must-watch TV shows, and classic favorites, all available right now. Plus, you can subscribe to current TV seasons, with new episodes available the day after they air.

Our store offers instant streaming on the Kindle Fire, as well as PlayStation 3, PC, Mac, Roku, and hundreds of TVs and Blu-ray players. Plus, all of your videos are stored in Your Video Library, so you can access them anywhere you go.