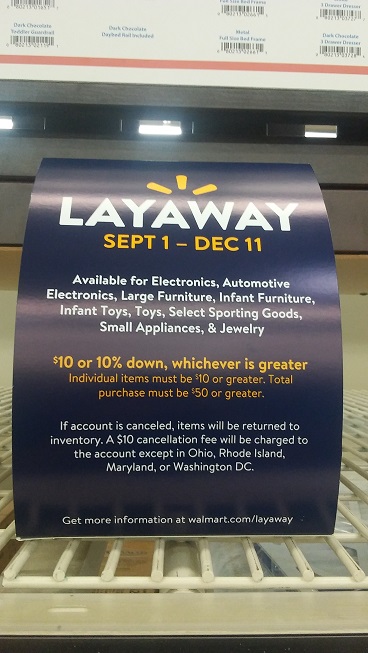 UPDATE: The Black Friday Ads are leaking all over the place – a new one almost every day!  Check HERE to see if the Walmart ad is out yet or not – we're refreshing this page ALL DAY LONG!
Alright this has to be the beginning sign of the holiday shopping season, when we start to see the layaway signs it means it's time to start planning right?
Well for those that like to plan out and take advantage of the Walmart Layaway Program it WILL be back again this year in 2017! Woohooo!
The layaway program hasn't changed much from previous years but here is what you need to know:
2017 Layaway Season will be from September 1st – December 11th
Minimum layaway for an item is $10 (so items must be $10 or more) but you must have an entire purchase of $50 minimum to qualify for layaway
Make payments anytime on your layaway at any register in the store and check with your store about sending you reminder emails about payments
There is no opening fee required for a layaway. All you need to do is make a small down payment of $10, or 10% on a single item, whichever is greater.
A layaway can be cancelled and down payments and other payments will be refunded minus a $10 cancellation fee (cancellation fees do not apply in Ohio, Maryland, Rhode Island or District of Columbia).
Layaway is not available on Thanksgiving day or Thanksgiving night.
Not available for online purchases