Make sure you sign up with
Shop Your Way Rewards
before you grab this amazing deal on the
Exclusive Spring Beauty Bag
!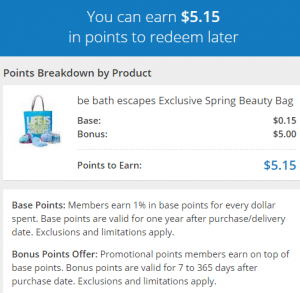 :: Deal Breakdown ::
Buy Be Bath Escapes Exclusive Spring Beauty Bag $15
Each Bag includes
: Clear Travel Bag with 2 travel Lotions, 2 Travel shower gels, 1 lip gloss, 1 nail file, 1 sponge, 1 Shower cap and 1 pair of cozy socks!
Receive $5 in Points
Like paying $10 for this set!
Why join Shop Your Way Rewards?
100% FREE to join
Get Free Shipping on $10+ Purchases (First 90 days)
Access to Exclusive Deals
Receive Bonus Shop Your Way Points
Get FREE Money!
You can sign up with Shop Your Way Rewards and choose me as your Personal Shopper HERE.