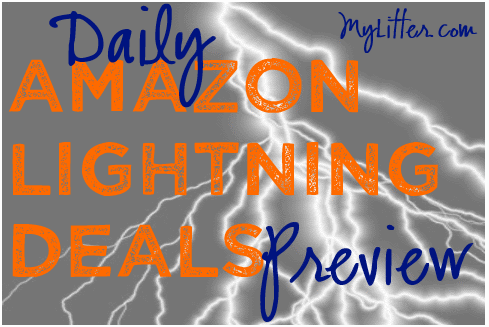 Here is the Amazon Lightning Deals Preview for today. These can sell out FAST, especially when it's a really great deal and around the holidays.  Find out how to beat people to Amazon Lightning Deals and check out all the other Amazon Deals too. PIN THIS LINK to come back daily.
This is a PREVIEW ONLY with times. We will not know the price until the deal goes live. Make sure you follow MyLitter on Facebook where you will get a reminder 10 minutes before each one goes live! Shipping may be extra, be sure to check out Amazon Prime for FREE 2 DAY SHIPPING (use THIS LINK for a free 30 day trial!)
Norton's Vacuum Abrasive Fiber Disc – 7am CST
Norton's Multisand Job Pack Abrasive Sheet – 8am CST
This stylish compact camera makes it possible for you to capture stunning pictures & video – 8am CST
Norton's Economy Tool and Knife Abrasive Sharpener – 9am CST
Norton's 24-Piece Abrasive Sponge Assortment – 10am CST
Prepare for tailgating season with this 32 gallon New Orleans Saints Brute Trash Can – 10am CST
Sophie the Giraffe Flashing Baby on Board Sign – 10:30am CST
Wooden Staunton Chess Set – 11am CST
All Natural Chicken Strips for Dogs – 12pm CST
ASUS Transformer 18.4-Inch All-in-One Computer – 1pm CST
Glow Skin & Coat Soft Chews for Dogs – 4pm CST
3M Paint Defender System – 5pm CST
Licensed Wii U Headset – 9pm CST
~~~~~
Make sure to check out MyLitter's Amazon Favorites. Find out which items we see deals on most often, some of the best add on items to get to $25.00 for Free Super Saver Shipping and many more goodies everyone loves.
Learn how to check your Amazon credit balance, find out the answer to how does Amazon Subscribe & Save Work and make sure you check out the Amazon Daily Gold Box Deal too.
*Remember that Amazon prices can change without notice. Please verify price before ordering.