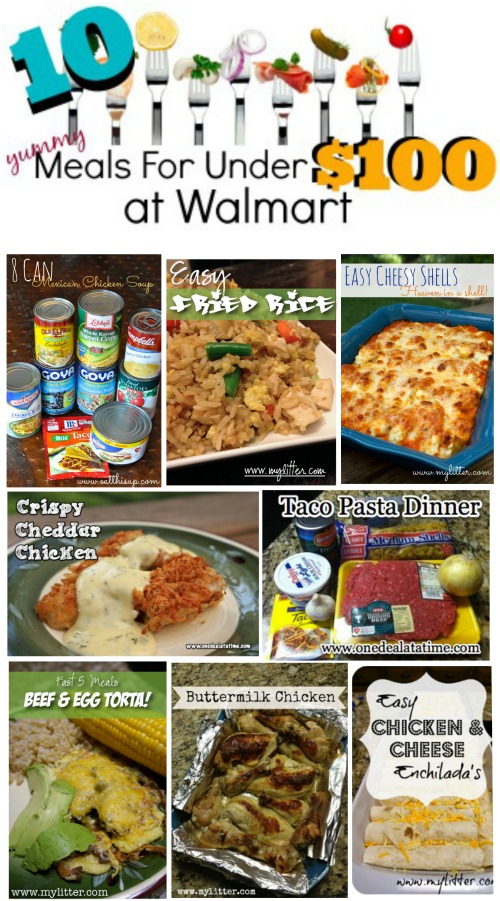 Instead of the usual weekly menu plan this week, I am giving you 10 Meals for Under $100 at Walmart. This is a list of our families favorite recipes that you can make buying the ingredients at Walmart. Each recipe is under $10, with the exception of the Easy Cheesy Shells, it is a little over.
I am accounting for the fact that you will have basic spices and flour already in your pantry. Also, you will be over buying a little food like frozen mixed vegetables, and eggs. This is for a family of 2 adults and 2-3 kids depending on how much your little kids eat.
Prices will vary some per store, I am buying mostly Great Value Brand items unless I have a coupon that makes the name brand lower. I am adding a bagged salad to each meal and possibly a side dish if needed.
8 Can Mexican Chicken Soup – $8.80
Easy Cheesy Shells – $14.78
Buttermilk Chicken – $9.95
Taco Pasta Dinner – $8.83
Crispy Cheddar Chicken $10.58
Easy Biscuits & Gravy with Fruit $6.35
Chicken & Cheese White Enchiladas – $11.71
Beef & Egg Tortas $6.29
Chicken/Shrimp Fried Rice $7.15
Chicken Pot Pie $9.26
Total: $93.70!
Personally, I will be price matching and using coupons when I do this shopping trip, so I am expecting my total to be in the $65 range. You can check for coupons HERE in the Coupon Database.
You can print the 10 recipes HERE, or click the image above.
Click HERE to print your shopping list for your trip!
* Make sure to "pin" this for later and share with your friends!